ICP-OES is a trace-level, elemental analysis technique that can perform qualitative and quantitative analysis on a wide variety of samples. The samples are made soluble in acidic water and the technique makes use of the unique photophysical signals of each element to successfully detect the type and relative amount of each element within the complexity of a compound sample.
Our lab is equipped with a state-of-the-art Agilent Technologies 5110-vdv ICP-OES system, which is capable of highly accurate trace metal detection even with the toughest samples. The detection limits are in higher µg/L (ppb) range. Concentrations of metal ions in a wide range of samples can be analyzed.
Possible Applications
The system is capable of measuring trace levels of metals in samples which originate from almost any domain including environmental (water and soil), polymer, food, agriculture, agro-chemicals, chemicals in general (fertilizers, batteries, raw organic and inorganic products), minerals, metallurgy, geology, mining, rare earth elements, cement, ceramics, glass, material science in general, petrochemistry, as well as pharmaceutical and cosmetic products.
Rate List

Associated Faculty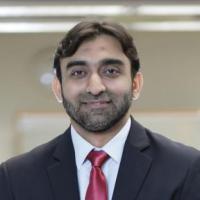 Dr. Basit Yameen
Associate Professor
School of Science and Engineering
basit.yameen@lums.edu.pk
Contact:
Syed Zajif Hussain
Principal Research Scientist
e: syed.hussain@lums.edu.pk
Shipping address
Syed Zajif Hussain I Principal Research Scientist
Department of Chemistry and Chemical Engineering,
SBA School of Science and Engineering (SBA-SSE),
Lahore University of Management Sciences (LUMS) 54792, Lahore, Pakistan.
T: +92 42 35608000 EXT. 3767